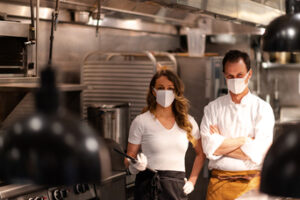 Here in California, we already pretty much have pre-summer weather. It's not super hot just yet, but soon enough (but hopefully not too soon), we'll be sweating bullets. Maybe you and your restaurant staff already are. Consistently moving around in a kitchen with ovens, stovetops, grills, and other appliances turned on while the weather outside is already pretty toasty can make one's skin dewy in no time (and not the good type of dewy either).
Before your staff kill over of heat exhaustion, or you get slapped with a hefty fine or lawsuit, let us ask you this: do you have a working and recently serviced swamp cooler in your California commercial kitchen? If you said, "No," you're definitely going to want to get that done shortly to avoid the latter consequences.
A Working Kitchen Swamp Cooler Plays a Prominent Role
It might seem like an unimportant additional to your commercial kitchen. However, your kitchen's swamp cooler offers many benefits.
One of the things your kitchen's swap cooler can do is help cool down your overheated kitchen when cooking is in full swing. And as contaminants are entering the air in your kitchen mid-cooking, your swamp cooler helps replenish the atmosphere with fresh air that's safer for your employees to breathe.
This device isn't just beneficial for your employees but can also benefit anyone dining inside your California restaurant. The last thing you need is a bad review on Yelp for having a stuffy, hot dining room. Your guests are much more likely to feel comfortable when the air in your commercial spot is fresh and cool.
Swamp Cooler Not Working Properly? Get it Serviced Now in Sherman Oaks CA
Say your swamp cooler isn't working as anticipated. Or, maybe it's even broken. Whatever the issue might be, know that it can be replaced sooner than you might think and for a great cost.
Flue Steam, Inc. takes delight in servicing swamp coolers and providing any repairs that they might need. With our help, we will leave your commercial kitchen better than ever. Imagine fresh, easy to breathe, less contaminated, and safer air that doesn't leave you and your staff members feeling hot, sweaty, and dry. You and your hard-working team deserve it, especially now that the weather is warming up fast!
Contact Flue Steam, Inc. today for a service appointment in Sherman Oaks, CA. Our phone number is 800-700-FLUE.