Call Flue Steam for thorough, professional exhaust duct cleaning in Calabasas CA.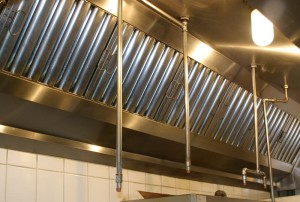 How long has it been since your last exhaust duct cleaning? If you can't recall, you may be putting your kitchen at risk of a grease fire in the exhaust system or at very least a fire code violation. To eliminate fire hazards, ensure code compliance, and restore your peace of mind, call Flue Steam. We can provide the professional exhaust duct cleaning in Calabasas CA you need to keep your kitchen safe. We have a 40-year history of excellence in this industry, and you can be confident that our professional, certified exhaust duct cleaning technicians will keep your ducts up to our high standards of cleanliness.
Types of Exhaust Duct Cleaning in Calabasas CA
At Flue Steam, we offer two types of exhaust duct cleaning in Calabasas CA to enable our clients to get the frequent cleanings they need without breaking their budgets.
Hand Scraping: Our certified technicians can clean your exhaust hoods and nearby portions of the ductwork using a hand scraping technique for a highly affordable means of controlling grease buildup in the most vulnerable areas.
Steam Cleaning: Steam cleaning is a more thorough service that can remove grease where our employees' can't reach with the hand scraper tool. Depending on the type and volume of food you cook, you may need steam cleaning quarterly or semi-annually.
A Clean You Can See
Are you tired of relying on a tech's word alone for assurance that an exhaust duct cleaning in Calabasas CA was effective? At Flue Steam, we can measure grease buildup before and after service using an IKECA comb, to show you exactly how much grease your system had accumulated and how much we removed. Using this tool, we can help tailor the frequency of your cleanings to the specific needs of your commercial kitchen.
Additional Services
Exhaust duct cleaning in Calabasas CA isn't all we do at Flue Steam. We also provide all the services you would expect from an experienced kitchen air control and fire suppression specialist, including:
Automatic fire suppression service
Portable fire extinguisher sales & service
Swamp cooler service
Emergency exhaust fan repair
Grease filter exchange service
Exhaust duct access panel installation
Ready to Schedule Service?
Are you ready to schedule an exhaust duct cleaning in Calabasas CA? All you have to do is call or click. We'll make sure you get your service at a time that's convenient for you.

Contact Us
Address:
5734 Bankfield Avenue
Culver City, CA 90230
Send us a message