Meet your NFPA code requirements with expert restaurant kitchen exhaust cleaning in Anaheim CA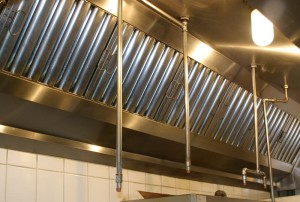 Excessive grease buildup in your restaurant exhaust system is a serious fire hazard. You could get hit with a fire code violation or even lose your kitchen to a fire. You can trust Flue Steam to provide the thorough restaurant kitchen exhaust cleaning in Anaheim CA you need to satisfy code inspectors, eliminate fire hazards, and keep your kitchen smoke- and odor-free.
Two Ways to Get the Clean You Need
Depending on the type and amount of food prepared in your restaurant kitchen, you may need cleaning more or less frequently than the average restaurant. Fortunately, our two cleaning methods can be combined to meet any and all cleaning needs. You can get hand scraping every month to remove grease from the areas where it accumulates fastest, and steam cleaning every 3 to 6 months to remove dangerous grease deposits from your entire duct system. Our techs can measure grease depths to help determine how quickly grease accumulates in your kitchen and make sure you are getting restaurant kitchen exhaust cleaning in Anaheim CA before you have a fire hazard on your hands.
Get Your Certificate of Performance Sticker
Following every hand scraping or steam cleaning, we will provide a Certificate of Performance sticker. These stickers include the date of service to help you keep track of your cleaning schedule, and to confirm to code inspectors that your kitchen is in compliance.
Make the Most of Every Service Visit
Restaurant kitchen exhaust cleaning in Anaheim CA is not the only service we can provide. While we're on site, we can also complete the following tasks as needed:
Grease filter exchange service: We will pick up your old filters for cleaning and replace them with clean ones.
Exhaust fan inspection: Every restaurant kitchen exhaust cleaning in Anaheim CA includes a free fan inspection to help ensure this vital part of your exhaust system is working properly.
Swamp cooler service: Make your life easier by scheduling your semi-annual steam cleaning and your bi-annual swamp cooler service on the same day.
Fire extinguisher service: We can provide portable fire extinguishers as well as install and service automatic fire suppression systems–just another way we help you meet your NFPA requirements.
Call Now to Schedule Restaurant Kitchen Exhaust Cleaning in Anaheim CA
Have you fallen behind on your restaurant kitchen exhaust cleaning in Anaheim CA? Don't worry. We can have a crew at your restaurant ASAP. Please call 800-700-FLUE now to schedule service.
Contact Us
Address:
5734 Bankfield Avenue
Culver City, CA 90230
Send us a message